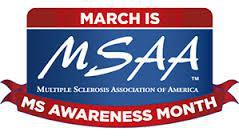 National MS Education and Awareness Month is an effort by the Multiple Sclerosis Foundation (MSF) to raise the public awareness of multiple sclerosis (M/S). The important goals of this endeavor are to promote an understanding of the scope of this illness and to assist those with M/S in making educated decisions regarding their healthcare.
Efforts to raise awareness of M/S take place across the country. Awareness Kits and instructions are available from the MSF for those who wish to become involved in this effort.
Anyone affected by or interested in learning more about Multiple Sclerosis, is invited to participate in activities and to broaden their understanding of Multiple Sclerosis throughout the month.